The Word of God is a lamp unto our feet. We may not know all the Scriptures but dwelling into His Word gives us assurance and hope especially when troubles come. The following verses are not to be critically analyze because I use them devotionally and for personal reasons. The context may be different from my explanation, so, do not use my blog for teaching purposes. These verses are valuable and reminds me of my purpose in life. I know these verses since I was little. I know them by heart. Writing this blog actually made me realized that these verses are my life verses for a reason. So, keep reading.
5. Proverbs 17:17 "A friend loves at all times, and a brother is born for a time of adversity." 
Historically, this passage is about King David's love for his best friend, Jonathan. In context, David rejoices that Jonathan is loyal to him despite King Saul, Jonathan's father, tries to kill him. This passage is very important to me because when I make friends, I stick with them. Most people can agree that a true friend does not just stick with you during good times but also when trials come. I have few several good friends and I still want to make more. I want to make sure that they can count on me especially on their bad days. I will be there for them.
4. Genesis 50:20 "You intended to harm me, but God intended it for good to accomplish to what is now being done, the saving of many lives."
The context of this verse is about Joseph forgiving his brothers. The brothers were worried because their father, Jacob, just died. A while back, Joseph's brothers betrayed him out of jealousy that caused severe trials for Joseph. The brothers now are worried that Joseph will try to take revenge but instead, he proclaim those loving words to his brothers. In life, this is hard to do. However, forgiveness is a key of letting go of pain. It is also important to allow God to mold us and accept things, even the bad things, that God will use all of these to His purpose. Personally, this verse is a reminder that God can use the damage that was done to me when I was young. Depression is a result of that tragedy, but I do not use depression as an excuse to hate others. Instead, I use depression to proclaim God's love and grace to people. No matter what or strong my depression is, God will use every inch of my pain for His glory.
3. Psalm 34:18 "God is close to the brokenhearted and saves those who are crushed in spirit."
The first time that I used this verse was when I broke up with my ex-girlfriend. Oh young love! Eventually, I learned the context of this verse was when David is praying and also running away from King Saul. Nonetheless, I always remember this verse when I am depressed for I know that God is with me. He is crying with me. He is close to me. And He never leaves me.
2. Isaiah 61:1-3 "The Spirit of the Sovereign Lord is on me, because the Lord has anointed me to proclaim good news to the poor. He has sent me to bind up the brokenhearted, to proclaim freedom for the captives and release from darkness for the prisoners,to proclaim the year of the Lord's favor and the day of vengeance of our God, to comfort all who mourn, and provide for those who grieve in Zion—to bestow on them a crown of beauty instead of ashes, the oil of joy instead of mourning, and a garment of praise instead of a spirit of despair. They will be called oaks of righteousness, a planting of the Lord for the display of his splendor."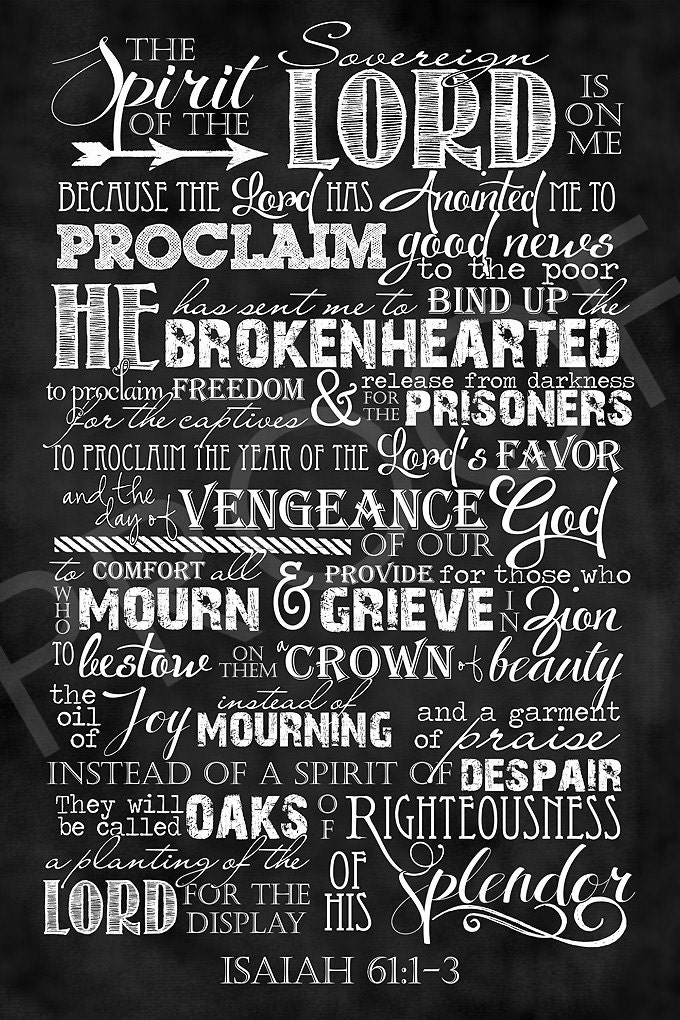 In context, Isaiah 61 is the announcement of the coming Redeemer, which is fulfilled by Jesus Christ. I have never appreciated that by having this verse in mind that it was actually helping me to cope with my depression. This is my mission verse in life. This is my purpose. This verse resembles my attitude towards life. I am no Jesus but I take this verse seriously. I can share many stories where I prayed, talked, convinced, and just stayed with people that were suicidal, hopeless, and depressed. God placed this verse in my mind, heart, and soul for a reason. He wants me to see what God sees. He wants me to continue to reach out for the lost, the brokenhearted, the captives, the mourners, and people in despair. [I am quite shocked right now the way I am writing this. I feel that God is straight up talking to me right now. He is clearly saying to me and showing me the plans that I need to choose for this is also His plans for me.] The last verse is very significant and highly connected to all other verses.
1.James 1:12 "Blessed is the man who perseveres under trial, because having stood the test, that person will receive the crown of life that the Lord has promised to those who love him."
It is done. It is my life verse, that I will continue to live by. If my purpose is to reach out to the broken and lost, then I will surely face many trials and temptation, but having this verse in my mind, heart, and soul, I know that I will remain steadfast in Christ. It is life. It is Christ. It is beautiful.
I will end it with a prayer.
---
Dear Jesus,

I am nothing. I am a sinner. How can you love me? Why would you die for me? Lord, if this is the path that you have for me, then I will continue to obey You. I will continue to seek the lost and the broken. I am in fear, but I trust in You. I will continue to trust in You. Lord, take care of the people that are reading this right now. I hope and pray that they can get encouraged and inspired. Lord, Your will be done. Amen."

---
Leave a comment if you want to share your life verses. I would love to know them. Otherwise, enjoy reading.
God bless.